Food
North Indian Food
North Indian meals are generally elaborate. This cuisine is characterized by thick and rich gravies made using onion and tomatoes. Lots of milk, cottage cheese, and dry fruits enhance the taste.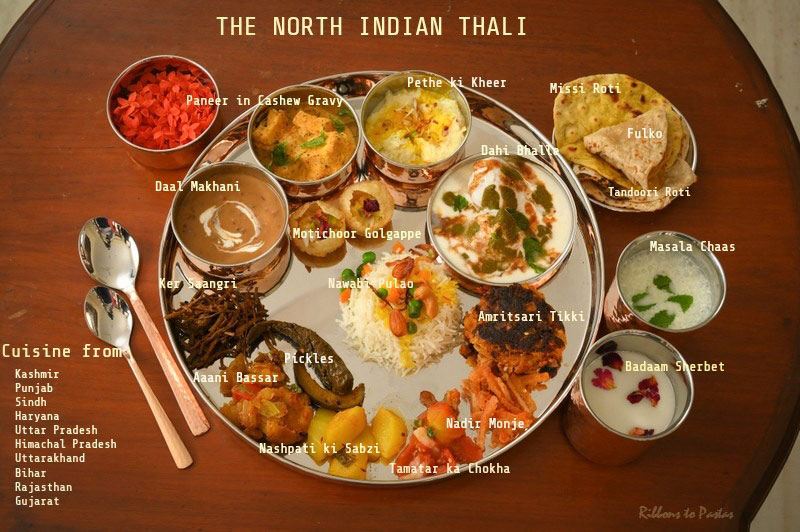 North Indian Food
Indian cuisine has always been known for its taste and variety. The Indian palate is one of the most diversified in the world. That is the reason why everyone loves and craves Indian food. Out of all the cuisines of India, the North Indian food is the Kohinoor diamond of all the delectable dishes of India. The options and tastes are endless. There are so many sweets and savoury dishes to choose from. Wheat is the staple food of the northern region; this is seen in the majority of the recipes. North India has extreme summers and winters, so the food is enjoyed according to the season.
North Indian meals are generally elaborate. This cuisine is characterized by thick and rich gravies made using onion and tomatoes. Lots of milk, cottage cheese, and dry fruits enhance the taste.
So let's discuss a few most liked and eaten north Indian delicacies. We will divide them into four broad categories to make an extensive list and include the most mouthwatering items. We have chosen the all-time favourites dishes and part of each north Indian menu list.
Snacks of Northern India –
Samosa is the good old yummy samosa filled with potatoes, peas, and dry fruits. The piping hot samosas served with green chutney are too difficult to resist.
Golgappas– are one of the most popular street foods in India. They are small puffy balls of semolina filled with tangy, spicy masala water and potatoes. After tasting it, you can only say- one more, please.
Bread pakoda– slices of bread with a filling of chutney, paneer, and potato dipped in gram flour and deep-fried. You need to taste it, to fall in love with it immediately. It can be made without the stuffing also. Hanging out with friends in the college canteen is incomplete without tea and bread pakoda.
Mirchi vada– this is one of the most famous Rajasthani snacks. This spicy fried crispy treat is made with chillies stuffed with mashed potatoes. The chillies used to make these vadas are less spicy, but the stuffing is tangy and spicy. Serving with mint chutney will instantly get a big wow.
Kachori- these yummy stuffed balls can be filled with moong dal (lentils) or onions. Whatever may be the filling, your heart will be filled with love for these. Hot kachoris with tamarind sauce make a perfect mood-lifting snack.
Main course food items of North Part of India –
Butter chicken- one of the most eaten and loved Indian dishes outside India. Made in butter and tomato-rich sauce with marinated chicken. Served with hot naans, a soul-nourishing food.
Chole is an authentic Punjabi dish in which chickpeas are simmered in tasty and tang gravy of onions and tomatoes with lots of species. It makes accompaniment bahutras naans and rotis.
Paneer tikka masala- heavenly food for vegetarians. Marinated in yogurt and then grilled cottage cheese cooked in a silky, spicy onion and tomato gravy. You will keep yearning for one more serving.
Dal makhani- this rich, delicious recipe includes whole black lentils and kidney beans soaked overnight. Slow cooking with mixed spices and butter makes it mouthwateringly scrumptious.

Rajma- this is a thick tasty curry made from kidney beans. It is usually served with rice making a great combo of rajma chawal. 
Also check out: North East Indian special dishes

Butter naan- this lip-smacking Indian soft bread can be eaten with a range of vegetarian and non-vegetarian curries. This hot and buttery naan is made in tandoor. With the same naan, lots of chopped garlic can be added to make yummy garlic naan.
Kulcha- kulcha is super soft textured leavened flatbread. It can be made with vibrant types of stuffings also. The most popular stuffings are paneer and potatoes with a blend of spices. It can be prepared in tandoor or Tawa. Chole kulcha makes a great combo meal.
Bhaturas- bhaturas are fluffy sourdough leavened bread that is deep-fried. They make a delicious breakfast or midday meal with hot and spicy chole. It is traditionally made with all-purpose flour, with or without yeast.
Paratha- paratha is a layered flatbread made with whole wheat flour, oil, and ghee. They can be prepared in various versions with many types of fillings. The most popular stuffings are potatoes, known as the famous "aloo ka paratha". Almost every house has these for breakfast. These flaky and buttery delights can be eaten with curries, vegetables, and even hot tea.

Puris- these light golden small fluffy balls are deep-fried. Made with whole wheat flour and oil, they are crispy delights that can be enjoyed with vegetables or your favourite pickle. Bedami poori and aloo ki sabzi is a great hit.
Carrot halwa- also known as gajar ka halwa- is a popular carrot-based pudding made in winter. It is made with freshly grated carrot, milk, sugar, dry fruits, and lots of simmering and stirring.
Gulab jamun– they are dark golden brown berry sized balls made with milk and flour. They are deep-fried and soaked in sugar syrup. Enjoy these piping hot to cater to your sweet tooth.

Ghewar- this round disc-shaped dessert is essentially a Rajasthani delicacy. Its basic look and texture resemble a honeycomb. It is a deep-fried treat covered with rabdi, khoya and silver flakes. The most common season to enjoy it is in monsoons.

Moong dal halwa is a rich, beautifully textured sweet dish made from split green lentils, ghee, and sugar. Moong dal halwa is to die in the winter season. This can be easily prepared at home.

Jalebi- this much-loved Indian dessert is world-famous. It is made from flour batter fried into spiral shapes, then soaked in sugar syrup. You can relish these crispy bites of indulgence all alone or with some rich rabdi.

All the above North Indian dishes are world-famous and equally popular in every Indian household. These are only a glimpse of the large arena of north Indian food. This region of the country proudly combines the tandoori culture of Punjab, spicy treats of Rajasthan, street foods of Uttar Pradesh, and the rich cuisine of Kashmir. Do try out these lip-smacking delicacies, and we guarantee you will fall in love with each one of these recipes.