World
Miss Universe 2021: Indian and other contestants representing their countries in beauty pageant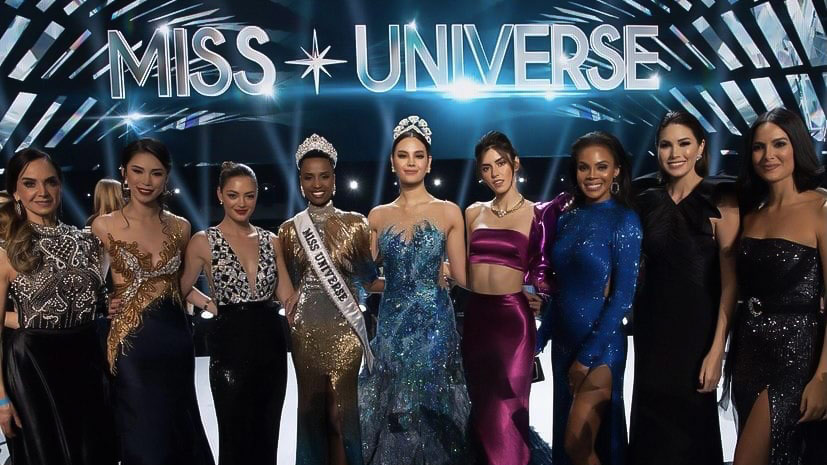 Miss Universe is one of the Big Four International Beauty pageants. It is run annually by Miss Universe Organization in the United States. With an audience gathering of almost 500 million viewers in 190 territories, miss universe is one of the most-watched pageants in the world.
The first Miss Universe Pageant was held in 1952 in Long Beach, California. The Winner of this year was Arni Kuusela from Finland who unofficially gave her title to get married before the completion of her year.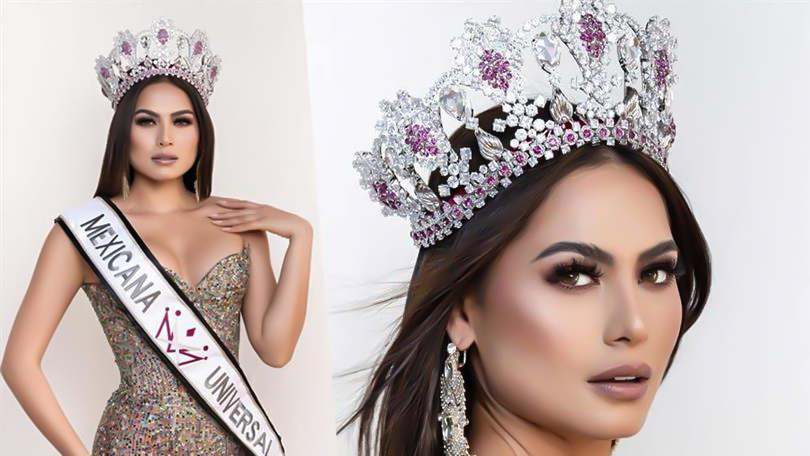 Andrea Meza
The crown of miss universe has changed nine times in its history of 67 years.
ROMANOV IMPERIAL NUPTIAL CROWN (1952)- the crown was owned by the Russian monarchy and used by Arni Kuusela in 1952
ROMANOV DIADEM CROWN OR METAL BRONZE CROWN (1953)- The crown was replaced in 1953 by a metallic bronze crown which was used by Christiane Martel of France.
STAR OF THE UNIVERSE(1954-60)
LADY RHINESTONE CROWN OR COVENTRY CROWN (1961-2001)- The crown was made of pure rhinestones for the 10th anniversary of the pageant. Which was remodified in 1963. 
MIKIMOTO CROWN(2002-07;2017-18)
CAO CROWN(2008)
DIAMOND NEXUS TOWN(2009-13)
DIC CROWN(2014-16)
MOUAWAD POWER OF UNITY CROWN(2019-present)
Miss Universe 2021 winner
ANDREA MEZA from Mexico succeeded ZOZIBINI TUNZI of South Africa to became Miss Universe.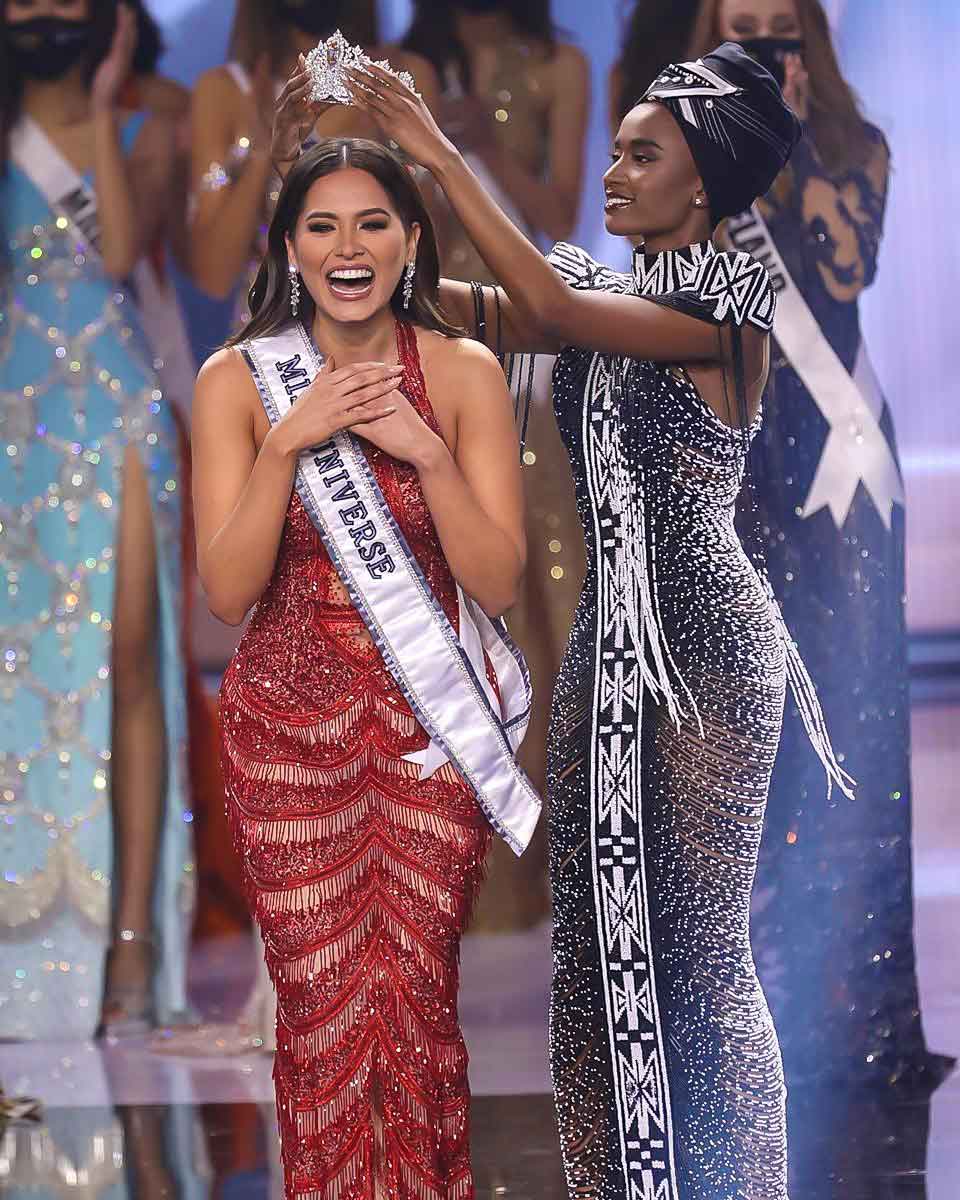 Miss Universe 2021 ANDREA MEZA
The first and second runner-ups are Miss Brazil Julia Gama and Miss Peru Janick Maceta del Castillo.
While
Adline Castelino
MIss India was declared as the third runner-up the Miss Universe 2021
She took her Instagram to write about her achievement as she made India proud."If I could pen down this feeling without getting overwhelmed about how I felt as I stood there witnessing people around the world cheering, flags waving high, and even if I missed seeing 🇮🇳 I felt like I was home. I thought of you India and what we are going through. People's love when they are hurting themselves is the purest form of love one can experience. I'm grateful to you that at a young age I have experienced that and if I could only show you what I saw that day! I saw hope, a hope that will be ours soon".
PARTICIPANTS OF MISS UNIVERSE 2021
Miss Albania: Paula Mehmetukaj
Miss Argentina: Alina Luz Akselrad
Miss Armenia: Monika Grigoryan
Miss Aruba: Helen Hernandez
Miss Australia: Maria Thattil
Miss Bahamas: Shauntae Miller
Miss Barbados: Hillary-Ann Williams
Miss Belgium: Dhania Covens
Miss Belize: Iris Salguero
Miss Bolivia: Lenka Nemer
Miss Brazil: Julia Gama
Miss British Virgin Islands: Shabree Frett
Miss Bulgaria: Radinela Chusheva
Miss Cambodia: Sarita Reth
Miss Cameroon: Angele Kossinda
Miss Canada: Nova Stevens
Miss Cayman Islands: Mariah Tibbetts
Miss Chile: Daniela Nicolas
Miss China: Jiaxin Sun
Miss Colombia: Laura Victoria Olascuaga
Miss Costa Rica: Ivonne Cerdas
Miss Croatia: Mirna Nadia Maric
Miss Curaçao: Chantal Wiertz
Miss Czech Republic: Klára Vavrušková
Miss Denmark: Amanda Petri
Miss Dominican Republic: Kimberly Jimenez
Miss Ecuador: Leyla Espinoza Calvache
Miss El Salvador: Vanessa Velásquez
Miss Finland: Viivi Altonen
Miss France: Amandine Petit
Miss Ghana: Chelsea Tayui
Miss Great Britain: Jeanette Akua
Miss Haiti: Eden Berandoive
Miss Honduras: Cecilia Rossell
Miss Iceland: Elísabet Hulda Snorradóttir
Miss India: Adline Castelino
Miss Indonesia: Ayu Maulida Putri
Miss Ireland: Nadia Sayers
Miss Israel: Tehila Levi
Miss Italy: Viviana Vizzini
Miss Jamaica: Miquel-Symone Williams
Miss Japan: Aisha Harumi Tochigi
Miss Kazakhstan: Kamila Serikbai
Miss Korea: Hari Park
Miss Kosovo: Blerta Veseli
Miss Laos: Christina Lasasimma
Miss Malaysia: Francisca Luhong James
Miss Malta: Anthea Zammit
Miss Mauritius: Vandana Jeetah
Miss Mexico: Andrea Meza
Miss Myanmar: Thuzar Wint Lwin
Miss Nepal: Anshika Sharma
Miss Netherlands: Denise Speelman
Miss Nicaragua: Ana Marcelo
Miss Norway: Sunniva Frigstad
Miss Panama: Carmen Jaramillo
Miss Paraguay: Vanessa Castro Guillén
Miss Peru: Janick Maceta Del Castillo
Miss Philippines: Rabiya Mateo
Miss Poland: Natalia Piguła
Miss Portugal: Cristiana Silva
Miss Puerto Rico: Estefania Soto Torres
Miss Romania: Bianca Lorena Tirsin
Miss Russia: Alina Sanko
Miss Singapore: Bernadette Belle Ong
Miss Slovak Republic: Natália Hoštáková
Miss South Africa: Natasha Joubert
Miss Spain: Andrea Martínez
Miss Thailand: Amanda Obdam
Miss Ukraine: Yelyzaveta Yastremska
Miss Uruguay: Lola De los Santos
Miss USA: Asya Branch
Miss Venezuela: Mariangel Villasmil
Miss Vietnam: Khanh Van Nguyen Tran